Hello everyone!  This is Laura, she has gorgeous curves and would like suggestions on different ways to flaunt them.  She didn't exactly say that, but she should totally rock what she's been blessed with!  She had a budget, but I'm sure her boyfriend won't mind if I go a bit over.  (i.e. Completely disregard the budget!)
A tailored blazer like this will make the waist appear narrower while accentuating feminine curves.
A floral blouse gathered at the bottom of the ribcage flatters most silhouettes and the colors in this will blouse really flatter her skin tone.  (I've seen color pictures to be able to make this assessment!  Don't worry!)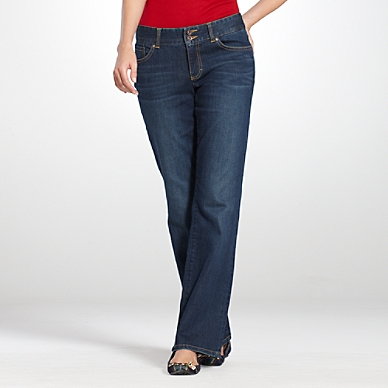 Bootcut jeans will elongate her legs and make her appear taller as the outer seam should go in a straight line from the thigh to the floor.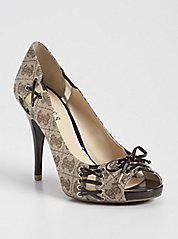 Heels also help to elongate the legs and the leather tie details are a sexy take on an otherwise conservatively designed shoe.
Pair these on one wrist for a really cool effect.  (I'm totally getting these for myself as well!)
A beautiful blue pair of simple swarovski crystals will really sparkle and complement her outfit!
I really like being able to find beautiful timeless pieces of clothing, but sometimes you simply need to blow budget to the wind!  I hope you like these selections, Laura!